Quick quote
Simply complete the following for your obligation free quote...
"What a fantastic service! James came early morning to quote then returned an hour later to clear the pile of bricks and cement for us.  They left the site clean as a whistle..."
Sarah, Marrickville
"Pink Junk were excellent. Great value on time, respectful and polite...Nick the team manager is the sort of person you can give the keys to your house to and have no worries..."
Fred, North Sydney
Punctual. Professional. Honest
Junk removal & rubbish removal, Sydney wide, 24/7
Do you need junk or rubbish removed ASAP? Want a team who turn up on time, act professionally and agree a fair, open and transparent price before any work starts?
Then call PINK JUNK!
Why waste your spare time, do your back in or stress out organising a skip, when we will do all the hard work for you!
We take your junk, rubbish or waste from where it lays and take care of all the loading, transporting, sorting, dumping and recycling for you.
No ordinary rubbish removal business!
PUNCTUAL
Your time is precious, so being on time is our number one priority.
​
PROFESSIONAL
We are clean, conscientious, considerate, polite and fully trained and insured.​
HONEST
Upfront pricing means no nasty surprises, or awkward conversations at your door!
See our pricing here.
Clutter getting you down?
One quick phone call...
We will come and take your junk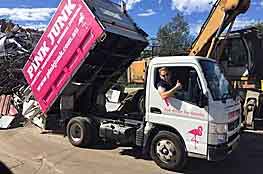 Dispose, re-cycle or up-cycle for you
So you can spend your time how you deserve
We work around you
We won't "waste" your time (excuse the pun).
You are not always available in the week, so we work when you need us, including evenings and weekends - give us a call to discuss a suitable appointment time.
Your junk will be recycled
Wherever possible we re-cycle, up-cycle or re-use by passing on to charities and other third parties. It's far better for our environment and it's more cost effective for our clients.
You save time, hassle and stress
Can you think of better ways to spend your time than taking rubbish to the dump?
We do the heavy lifting, transporting, sorting and unloading so you can focus on doing something you really want with your precious spare time.
Your privacy and security is paramount
So we take no credit card details over the phone or on our website.  We take payment on site once you approve your quote.
And, all our team are police checked, comprehensively trained and fully insured.
You won't be left with a mess
After every job we give a thorough sweep of the site, leaving it clean and clear for you.
We operate Sydney wide
From Blacktown to Bondi, Wollongong to Whale Beach.
"Brent was fantastic, easy going and nothing was a problem. Gents, make sure you send your wives to hairdressers before Brent turns up as he must be related to Chris Hemsworth. It was nice to have Thor turn up and get the job done"
Con, Glenbrook